Like what you see?
Sign up to receive more free parenting advice.
Thank you for subscribing to our newsletter!
Child Development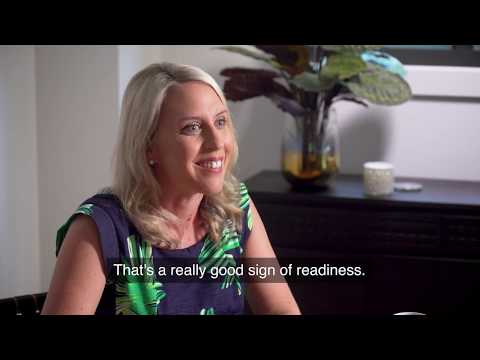 Introducing solid foods: How and when? - Nicole Bentley
How do you know if your baby is ready for first foods? From around six months, each baby needs additional nutrients. What your baby learns during this stage of life is important and can have an impact on their future eating behaviours and preferences.
Watch video on YouTube
Nicole Bentley is responsible for the management of the Nutrition Services offered at Nutrition Australia Qld. In this article she looks at the introduction of solid foods, some great tips, dealing with allergies and baby-led weaning.
From birth to around six months of age, breast milk or a commercial infant formula provides all the nutrients that your growing baby needs.
From around six months of age, each baby needs additional nutrients for their growing bodies. What your baby learns during this stage of life is important and can have an impact on their future eating behaviours and food preferences. It is important to provide your baby with a variety of nutritious foods, starting with iron rich foods.
What age to introduce solids?
First foods should be introduced when your baby:
Is around six months old
Is beginning to show interest in food
Can hold their head steady and sit upright when supported
Has an increased appetite
It is important that you do not introduce first foods to your baby before four months of age, as your baby's digestive system won't yet be fully developed and isn't ready for food.
Some tips when starting a baby on solids
Continue to breastfeed as long mother and baby wish; if you are formula feeding, continue until your baby is 12 months old
Do not add salt, sugar, honey or extra flavours to your baby's food
Always supervise your baby while they are eating - never leave them alone when eating
Always sit your child in an upright position when feeding with solids foods
Cooled boiled water can be offered as an additional drink from six months of age
Encourage drinking from a cup from around 6 months
Continue to introduce new foods
Be patient
Let your child see you eating healthy foods too
Always make mealtimes fun and relaxing
A small amount of full cream cow's milk can be added in the preparation of first foods
Food and drinks that infants should avoid
Honey – due to the risk of the bacteria called botulism
Sweetened drinks such as cordials, soft drinks, iced teas, juice
Cow's milk should not be introduced as a drink until after 12 months of age
Tea and coffee
'Junk foods' such as chocolate, potato chips, lollies/sweets or other high sugar or high fat snack foods
Take away foods
AVOID HARD FOODS, due to a risk of choking (e.g. popcorn or raw carrot)
You mentioned to start with iron rich foods, what does this mean?
It is important to include iron rich foods in your baby's first foods. This is because between 6-12 months of age your baby's iron stores generally decrease. Therefore it is important that we include iron rich foods at this age to make sure your baby has enough iron in their diet through the 7-12 month age. Iron is important for your baby's growth and development.
Iron rich foods include:
Iron fortified infant cereals
Puree legumes, soy beans or lentils and cooked plain tofu
Puree fish, meat, poultry
How should solids be introduced to babies?
It is ideal if you can try to aim for a couple of serves of iron rich foods per day. This could be including some iron fortified rice cereal and at another meal offering some puree meat (which is able to be offered mixed in with other puree foods such as vegetables).
Introducing allergen containing foods
A wide variety of food from each of the five food groups is important when introducing foods and research now states that this may actually reduce the risk of allergies developing.
The Australasian Society of Clinical Immunology and Allergy (ASCIA) provide evidence-based guidance on how to introduce allergen containing foods to infants.
Key recommendations from ASCIA on infant feeding are:
"When your infant is ready, at around six months, but not before four months, start to introduce a variety of solid foods, starting with iron rich foods, while continuing breastfeeding". 1
"All infants should be given allergenic solid foods including peanut butter, cooked egg, dairy and wheat products in the first year of life. This includes infants at high risk of allergy". 1
Previous recommendations to delay or avoid allergenic foods to prevent allergy are no longer supported. 2
ASCIA's position is supported by the Infant Feeding Guidelines statement that "delaying the introduction of solid foods, including allergenic foods, after the age of six months may increase the risk of developing allergic symptoms". 2
However if you are concerned or there is a strong history of allergies in your family, talk to your health care professional before starting solids.
How about progressing through textures
You should start your baby on puree foods (which are smooth with no lumps). You can make puree foods yourself with a blender buy pureeing up a wide variety of foods from the food groups. If you are breastfeeding, you can use breastmilk as the liquid to help achieve a puree consistency.
As your baby tolerates puree foods, they can progress onto mashed/lumpy foods and then onto finger foods. Generally, your baby can have 'family foods' from around 12 months of age. Progressing through textures of foods with your baby is important in helping them 'learn' how to eat and use their tongue and muscles in their mouth.
How does the intake of a 7-12 month old look over a day?
Every baby is different and there will be daily fluctuations in what your baby will eat. Important things for you to remember are:
Introduce different tastes, textures and consistency as child grows. Foods can be introduced in any order and at a rate that suits the child.
Homemade is best - cooking first foods from fresh ingredients wherever possible, with no added sugar or salt. Using commercial frozen or canned foods is okay sometimes as long as they don't have added sugars or salt.
The current infant feeding guidelines recommend the following as a guide for the amounts of food from the five food groups per day when baby is between 7-12 months of age.3 Please bear in mind that in the very early stages of introducing foods, it is about experimenting with flavours and textures, they may not actually consume a lot of the food you are offering, this will build up as you and your baby get used to first foods.
Note – this is a guide only which is based on the recommendations from the Infant Feeding Guidelines

| Food | Serve Size* | Serves a day |
| --- | --- | --- |
| Vegetables and legumes/beans | 20g (1 tbsp) | 1 ½ - 2 |
| Fruit | 20g (1 tbsp) | ½ |
| Grain (cereal) foods | 40g bread equivalent (e.g. 4-6 tbsp cooked rice/pasta) | 1 ½ |
| Infant cereal (dried) | 20g (1 tbsp) | 1 |
| Lean meat, poultry, fish, eggs, tofu | 30g (1 ½ tbsp) | 1 |
| Breast milk or formula | Breastmilk – continue for as long as mother and baby wish, amount varies depending on mum & baby | 600 mls/day of formula |
| Yoghurt/cheese or alternatives | 20 mls yoghurt or 10g cheese | ½ |
¬ *20g is equivalent to 1 tablespoon and 5g is equivalent to 1 teaspoon.
I've heard about baby-led weaning – what is this and is this something I should do?
The practice of baby-led weaning (BLW) for first foods (solids) is becoming increasingly common. As this involves not using purees for first foods for babies it is a little 'left-field' compared to the Australian Infant Feeding Guidelines. If you are considering or are using strategies from baby led weaning, it's important to ensure it is done safely and appropriately to provide the best outcomes for your baby.
Both the Infant Feeding Guidelines and BLW practices encourage continued exposure and opportunity to sample a wide variety of healthy foods to help achieve adequate nutrient intakes and healthy diets in childhood. Establishing these healthy eating habits are likely to continue through to adulthood and may assist in promoting better food choices later in life.
7-12 months old
early stages of introduction
Later stages
Breakfast
4 tsp dry infant rice cereal, prepared as per instructions, &
1 tsp pureed peaches
1 ½ breakfast wheat biscuits or ¼ cup dried oats made into porridge, with breast milk or formula or full cream milk
Morning tea
2 tsp (heaped) plain unsweetened yoghurt with 1 tsp pureed pear / apple
4 tsp dry infant rice cereal, prepared as per instructions, with 2 tsp mashed banana
Lunch

3 tsp pureed meat &
2-3 tsp pureed vegetables (e.g. carrot and/or pumpkin) &
4 tsp pureed cooked rice

3 tsp pureed or finely chopped meat, tofu or fish & 2-3 tsp mashed pumpkin & peas
2 tsp plain unsweetened yoghurt
Afternoon tea
2 tsp pureed vegetables (e.g. peas, green beans &/or pumpkin) with ½ slice toast (or equivalent) as finger food
½ slice toasted wholemeal bread with 2 tsp mashed avocado
Dinner
3 tsp pureed meat or beans/legumes with 2-3 tsp mashed vegetables (e.g. pumpkin, sweet potato, carrot) & 4 tsp pureed cooked rice
3 tsp beef mince cooked in
2-3 tsp tomato based sauce (made with tomato, onions, pureed carrots and broccoli)
What might be potential benefits and risks from BLW?
When you compare the current Guidelines against common BLW practices it identifies that there is a lot of common ground (e.g. ensuring baby is showing signs of readiness; avoiding hard foods that are choking risks) but there are a few points of difference (e.g. not particularly encouraging iron-rich foods first).
Studies have generally shown that healthcare professionals do acknowledge there could be benefits of BLW, with some research showing babies may more effectively develop self-regulation of their appetite and energy intake, leading to a decreased risk of becoming overweight, but there are concerns about the potential increased risk of choking, iron deficiency, and inadequate energy intake.
More research is necessary to fully understand the potential benefits and risks of BLW. If you are considering BLW, please consider the information outlines above on the importance of progressing through textures and offering a wide variety of foods. If you need further advice, please discuss with an accredited practicing dietitian or your local health professional.
---
1 ASCIA. (2016). Infant Feeding and Allergy Prevention Guidelines. Accessed from: www.allergy.org.au
2 National Health and Medical Research Council (2012) Infant Feeding Guidelines. Canberra: National Health and Medical Research Council. Accessed from: https://www.nhmrc.gov.au/about-us/publications/infant-feeding-guidelines-information-health-workers
3 National Health and Medical Research Council (2012 Eat for Health Educator Guide – Information for nutrition educators. Canberra: National Health and Medical Research Council. Accessed from: https://www.eatforhealth.gov.au/sites/default/files/content/The%20Guidelines/n55b_educator_guide_140321_1.pdf
4 Cameron, S. L., Heath, A. L. M., Taylor, R. W. (2012) How Feasible Is Baby-Led Weaning as an Approach to Infant Feeding. A Review of the Evidence. Nutrients. Vol 4, 1575-1609.